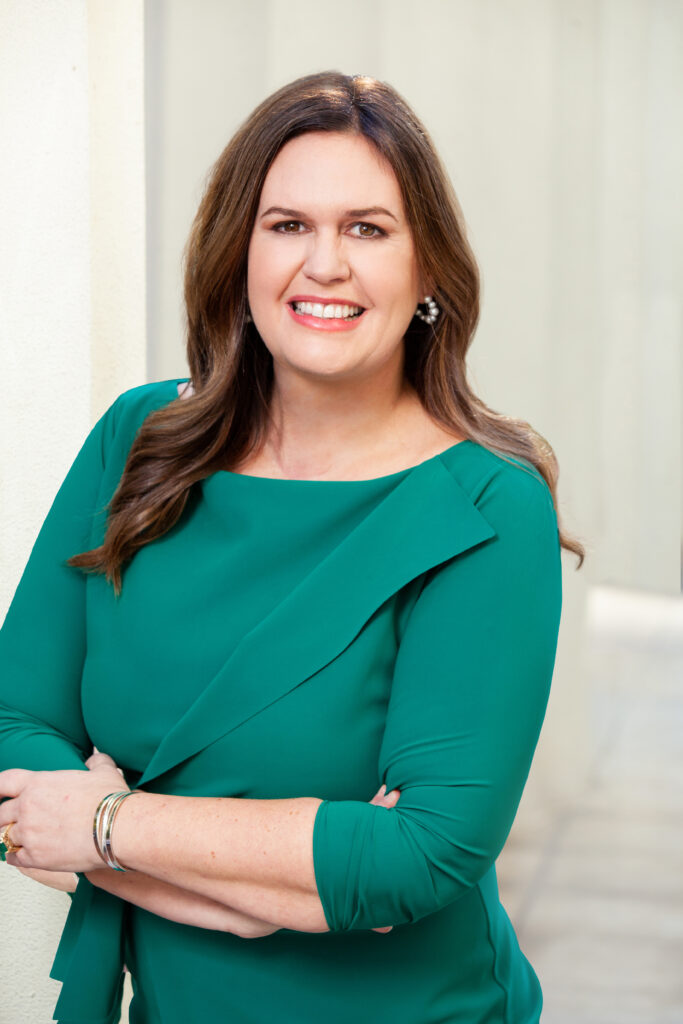 Sarah Huckabee Sanders is the 47th Governor of Arkansas.
Inaugurated on January 10, 2023, she is the first woman to serve as governor of the state and currently is the youngest governor in the country.
Since taking office, Sarah has enacted transformational, conservative reforms. Those include Arkansas LEARNS, a sweeping overhaul of Arkansas' education system, including higher teacher pay and universal school choice; public safety reforms to invest in prison space and get repeat offenders off the streets; tax cuts to give more taxpayer money back to Arkansans; the Natural State Initiative to grow Arkansas' outdoor economy; and reforms to streamline state government.
In just her first 100 days, Sarah delivered the Republican response to President Joe Biden's State of the Union Address, offering a bold vision for a new generation of conservative leadership.
Prior to her historic victory, Sarah served as White House Press Secretary for President Donald J. Trump from 2017 to 2019. A trusted confidant of the President, she advised him on everything from press and communications strategy to personnel and policy. Sarah was only the third woman – and the very first mom – to ever hold the job of White House Press Secretary.
Sarah joined the Trump campaign as a senior advisor in February 2016 during the Republican primary and continued in that role through the President's historic victory that November.
She has previously worked in leadership roles for U.S. Senators, Governors, and presidential campaigns. In Arkansas, Sarah was a senior advisor to U.S. Senator Tom Cotton's 2014 victorious campaign and was campaign manager for U.S. Senator John Boozman's winning campaign in 2010. In 2007 and 2008, Sarah helped lead her father, former Arkansas Governor Mike Huckabee, to victory in the Iowa Caucuses and seven other states as his national political director. Sarah also served in the Department of Education during President George W. Bush's administration.
She has been recognized in Fortune and TIME Magazine "40 under 40." Sarah is the author of the New York Times bestseller "Speaking for Myself," a former Fox News Channel contributor, and served on the Fulbright board.
Sarah grew up in Pine Bluff and Texarkana and is a proud graduate of Little Rock Central High and Ouachita Baptist University.
She lives in Little Rock with her husband, Bryan, their children Scarlett, Huck, and George, and their golden retriever, Traveler.